NEW INFORMATION ON SMARTPHONE USAGE
MMS 2012 includes new information on physicians' usage of mobile devices. One in every two Canadian physicians uses a smartphone for professional purposes. That number rises to 58% for GPs who have been in practice for less than 20 years.

Most Canadian physicians who use a smartphone professionally do so for less than half-an-hour per day.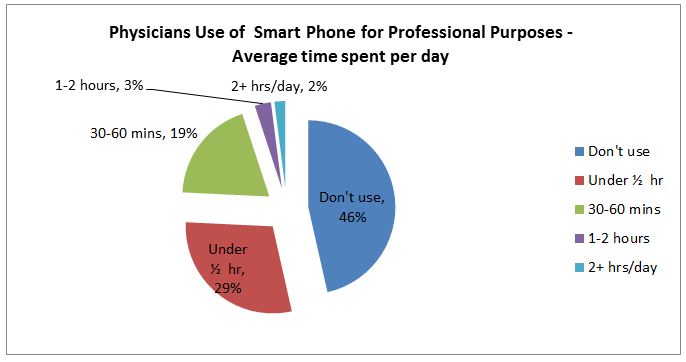 Types of professional usage:
Between two-thirds and three-quarters of physicians use a PC or laptop for the five professional purposes measured. Usage of mobile devices is considerably lower, particularly so for managing the practice and for patient information.

Those physicians who use a smartphone do so primarily for information about prescription products, patient treatment or diseases. They are nevertheless more likely to use a regular PC or laptop for these purposes than their mobile device. Plus, their usage levels for regular PC's are very close to those of the total physician population, evidence that the usage of mobile devices may be incremental rather than a displacement.

Attitudes
The usage of smartphones does not change how physicians evaluate media channels. Printed medical publications remain the #1 ranked media advertising channel by Canadian physicians, by those physicians with less than 20 years in practice, and by smartphone-using physicians.
The usage of smartphones also does not change GP's evaluation of media channels. Among this group, printed medical publications are again the #1 ranked media advertising channel.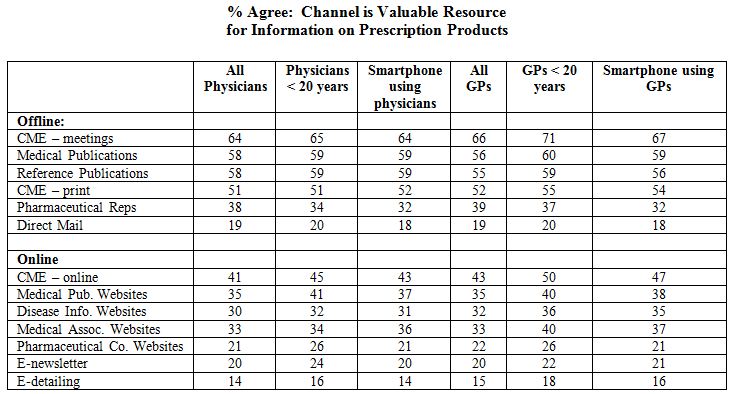 For more information about the 2012 PMB Medical Media Study, please contact Tosha Kirk (tosha@pmb.ca)